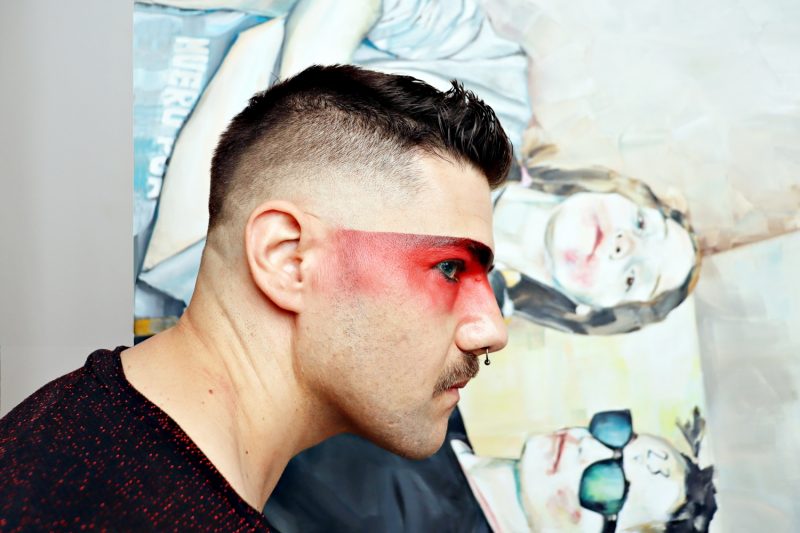 Elia Tomás artistic statement.
STATEMENT
Subjects
My vision focuses on the human element and uses portraiture as a medium to develop a narrative of individual. For this reason, most of my work have to do with the concept of self-discover: both in oneself (using mask, makeup and costumes) and others (relationships, separations and memories).
Therefore, my subjects often have something unpolished and teen. They go back looking for parts of themselves that have remained incomplete or they live a moment of loneliness with dramatic intensity. They struggle to be someone and sometimes compare themselves to others. Very often they feel victims of a certain hormonal euphoria and a little disappointment. They are wonderfully unstable people seeking to shape themselves. They become fragments where I explore my contradictions and my concerns.
For a long time, my work has focused on questioning masculinity. And I will continue to do so, because we still live in a society that upholds an obsolete concept of masculinity that is both ridiculous and destructive.
Elia Tomás artistic statement.
Style
More than a naturalistic style, I could define my painting as synthetic. Each canvas is a construction of the image from a carefully decontextualized set of photographic material. Most of this material is self-produced, the rest comes from private collections or historical archives. In each work, I like the challenge of creating a different balance between control and accident: in some paintings I try to make a faithful reproduction while in others I give priority to the movement of the paintbrush, turning faces and bodies into a sum of spots to awaken some emotional attention from the spectator.
Elia Tomás artistic statement.
Color
There is something that fascinates me about photographs from the 80s: those shady areas where colors have gradually given way to blue. Since I started painting I tried to reproduce that effect by exaggerating shadows and edges. Little by little, I have added to the blue a fairly complex range of colors, always having as reference the aesthetics of the 80s. Today I consider color my personal terrain of exploration of the contemporary. Without giving up that blue – almost a generational sign – I am looking for chromatically complex compositions. In my latest works I have devoted much attention to yellow and pink, colors that very often arouse some naivety and decadence.
Elia Tomás artistic statement.
2018
GROUPIES, Solo Show
Curated by Guillermo Martín Bermejo
Opening: April 2018
Factoria de Arte y Desarrollo, 
Madrid
2017
HOTEL X HOTEL, Group Exhibition
Curated by Guillermo Martín Bermejo
Opening: May 2017
Art & Breakfast Fair, 
Malaga
2016
TRANS LIVES, Colective Exhibition
Curated by Jesús Gironés y Pablo Peinado
Opening: July 2016
Casa de Vacas , Retiro, 
Madrid
2016
MALE AFFAIRS, Group Exhibition
Curated by José Antonio Mondragón
Opening: June 2016
Factoría de Arte y Desarrollo,
 Madrid
2015
LE SALÓN
Collective Exhibition
Opening: December 2015
La Futura Espai, 
Barcelona
2014
GLORIA FUERTES, Group Exhibition
Cuirated by Jesús Gironés
Opening: July 2014
El Foro de Pozuelo,
 Madrid
2013
THREE DAYS, Group Exhibition
Curated by Carlota LoveArt
Opening: Febrary 2013
Factoría de Arte y Desarrollo,
 Madrid
2011
WAR IS OVER, GO IN PEACE! Solo Show
Curated by Mauro De Francesco
Opening: May 2011
Ufofabrik Art, Moena, 
Italy
2010
SENDET Y HUMBURA, Special Project
Event: due Popoli, un mare, un'amicizia
Curated By Simone Mazzetto
Permanent Artwork in Berat Castle, Albania
2010
I JUST HAVE TO SAY GOODBYE,
Site Specific Installation
Curated by Guido Laino
Festival della Luna, Mezzolombardo, 
Italia
2010
LANDING POINT,
Festival Movimentazioni
Curated by MArtina Starnini
Palazzo Ducale, 
Genova
2008
I WOULD PREFER NOT TO,
Site Specific Intervention
Curated by Guido Laino
Festival dell'economia, 
Trento